(This was a stage I was going through).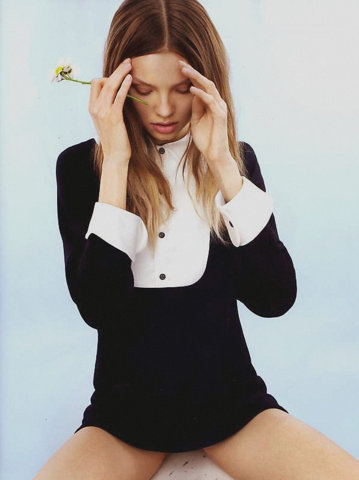 In North America, when it comes to picking up a stranger, beautiful women don't care if you're a good man. They don't care if you've read a ton of books. They don't care if you have a good career. They care:
If you're good looking and tall.
If her friends know, talk about, or approve of you.
If you're emotionally stimulating (ie, the jerk or bad boy.)
If you have social status, like being famous or very well known and talked about.
When I was a kid I had a crush on a young waitress. One day I sat for dinner and was flirting with her. I could make her laugh, I would say intelligent things, deep things, and she could hold her own in the conversation. When I asked for her number she rejected me. I couldn't understand why. If we got along so well, and I was a nice guy, why the rejection?
A few nights later I had a gig with my punk band. We set up and played a good set to a big crowd. I spotted the waitress below the stage. I felt a surge of egoic pride that she'd seen me in my band. Now she knew I was special. But, she should have assumed it in the first place.
After the show she climbed on stage, stood in front of me nervously and said, "I didn't know you were in a band!"
I patted her on the head, said, "Yes. I'm in a band."
Then I packed up my gear and never saw her again.
I had a client that is a multi-millionaire, a good looking Asian guy in his mid twenties. He is a really cool guy, and still a friend of mine. When I would take him out, he would take the rejections like all of us. He refused to use his status as a millionaire, professional poker player, to pick up girls. The Vancouver women would mostly ignore him, flake on his phone calls and texts, and reject his advances. All I could think was, you stupid girls. This guy could fly you anywhere in the world. He could take you on real adventures. You could be sleeping in his penthouse, overlooking coal harbor.
But, they didn't know anyone who could vouch for him. The girls were too safe, in their social circles. He's not on stage. He's not in a band. He's not a dj, he doesn't know who they know.
But, if I were to put him on stage, and tell the crowd that he's the coolest, richest man in Vancouver, and have a local band dedicate their set to his greatness—I'm sure the women would take his advances less lightly. Because he is a really awesome, funny, handsome guy (though shorter, like myself.)
The other day I met another pretty waitress. We talked while I had a beer. She was quite flirtatious. At the end, I got her phone number. She said she was free on Thursday. I wasn't surprised when she didn't return my text messages, after all, she's a Vancouver woman. Do I doubt my ability to seduce a pretty girl? Hell no, I've done it many times. I've been with hotter girls than her. When I found out my ex-girlfriend knew her, I asked her to find out, for science's sake, why she didn't want to hang out with me.
"Oh, she gets asked out five times a day. You're not her type, she likes really tall, buff guys."
Of course I was a little offended, but not really. I mean, I can't make myself taller, or better looking. But I'm Tony fucking D. And she doesn't know that I wrote a novel, played in popular bands, and travel the world teaching men how to improve themselves. How could she know? Nobody she knows has told her, and that's what is most important to women, social status.
I write for men, but I also write for women. There is enough information on the Internet for any average guy to learn what he has to: The numbers game.
When pretty young women fuck around in their early twenties, and end up stale baguettes in their early thirties, and wonder where all the, "real men," have gone, I say, they were right there. They were the nice guys that asked you out. The next great rockstar was the guy in the cafeteria, the next big comedian was the guy you met at Starbucks. You didn't answer his text message. And now no, "Real Man," wants you, because you're fat and old.
We have no options left. We have to approach a thousand women, with the same techniques, the same lines, the same bullshit, in order to get a date.
The average guy isn't tall and good looking. He isn't in a famous band. He isn't rich. He doesn't have a massive social circle. All he has is potential. But if a woman isn't even curious enough to dig, to give you a chance, what options does the average guy have? He has to become extra-ordinary.
This is why the pickup artists do what they do. This is why we go out night after night. This is why we pretend to be carefree jerks. This is why we tease and neg.
The women made us this way, because they don't need us. They don't need our minds, they don't need our money. We make better ornaments than providers.
North American women are damaged, as are we.
My suggestion to you, the average man: If you want to date the most beautiful women, you will have to learn pickup. You will have to raise your status. You will have to work your ass off in the gym to build muscles. You will have to make a shit load of money. You will have to approach hundreds of women for one date.
Or, you could move to a country where you believe beautiful women are still feminine, and appreciate a man for his manliness, integrity, wit and drive…and not his social standing. Perhaps this place is a myth. I don't know if such a place exists. Game exists.
***Click here for my Summer 2013 coaching schedule***