The Vampire
Posted January 8, 2013 by Tony D in
Dating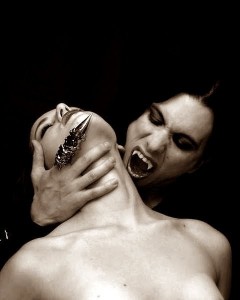 Today I'll share a simple move that will help you get laid quickly (kids cheering). I call it, "The Vampire." I originally wanted to call it, "Stroking The Baby Tiger," but that makes no sense except it sounds awesome. But really, it's just a neck kiss.
First step, you need to be in close proximity to the girl. Dancing is great for this, but if you suck at dancing that's ok. You can transition from a hug, from the front or behind. If you're a little advanced you've probably learned how to caveman, which means being very physical. Like when a girl is walking by and you reach out, take her hand and confidently pull her towards you for conversation, preferably on your lap. You have to believe, like all metaphysical n stuff, that everything will work, always, without a doubt and it usually will.
Second step, kiss her on the neck. If you are very bold, go as far as sucking on her neck, or licking it slowly from bottom to top, and perhaps even suck her earlobe. Most girls even if they're not initally very attracted to you will lean their head back to expose more neck, or turn their head to meet your lips.
The move is great because it's discreet. To any outside observers it just looks like a hug. Little do they know you're a badass pimp and you're sucking on the hot girl's neck like the vampire Lestat.
Have you ever been kissed on the neck? It feels great! I mean, a seventy year old granny could kiss my neck and I'd probably pop wood. It's not like this move will always lead you towards the bedroom, but it's a good start as it pumps the woman's sexual state. It also says more than words, which most of you are far too obsessed about.
So your mission this week is to neck rape some poor girl. At the very worst she will lightly push you off and you can carry on talking, or try another girl. But if you have even a modicum of charm, no real harm will come of your attempt. Trust me, I do this all the time and it usually works like a Unicorn's dream. Even if she doesn't drag me back to her room, she at least knows my intentions. No more bullshit.
This move is really great if you've already built rapport, or gotten to know eachother and all that. Then there will be some sexual tension. You kiss her neck and she may want to go straight for your lips. Don't allow this! It might destroy the tension. Play it like a harpsicord in a daisy field of nymphs. Tease her until she's soaked and then drag her to the nearest room, or car, or closet to tell her some great and important secret. Of course, the secret is your boner.
Good luck, have fun.
***My blog has been neglected as of late since I'm backpacking SE Asia and working on my novel, which is in its fifth draft. I'll try to put up a post at least once a week but I really want to finish this tome. It's at 62,000 words so far. I think it's good now, but I want it to be great. So my apologies to all my readers that have been waiting forever for the thing. I'm available for one month of email coaching for $299 for only two clients per month. I have one at this point, so if you want in, sign up now. Thanks for reading and have a great new year.***