What is escalation?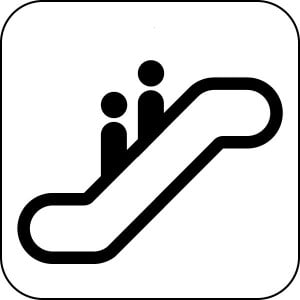 So I've been having mini debates with several friends on the subject of quick escalation. They ask me how do I escalate?
I define sexual escalation as any step that brings you closer to having sex for the first time. This could be verbal or physical. Some examples are:
Physical Escalation: You touch her with increased frequency and duration and with sexual intent. You hold her hand or caress her back, you play with her earring or her necklaces, you tickle her, or kiss her neck. It's a move that conveys intent. Always consensual and reciprocated of course.
This includes eye contact. One might linger a longer glance at her lips, her neck, her breasts, her legs. Yes, as much as women say they don't like their mammaries gawked at, it sends the message (I desire you). Try to be classy, as if you couldn't help it, but don't apologize. I've never had a woman get upset for looking. I mean…there they are in magnificent glory…how can you not? There is a difference between appreciation and leering. After you have sex you can leer all you want and she'll enjoy it, as absurd as that sounds. All that stuff you heard about, "Eyes up here," don't apply to guys who have a high level of attraction.
Verbal Escalation: Verbal escalation achieves the same objectives, but is harder to define than physical escalation. With verbal escalation, one plays the strings of sexual tension. It could be as simple as an indicator of interest like, "I like you." Or something like a line I came up with, "I would totally bang you in the alley, but I'm on probation."
There's also situational/logistical escalation. If you invite a woman to your home, and then on to your bed, the presumption will likely be sex. However, this is what some coaches call the, "Surprise! I have a dick!" method. It's not that cool. So it's best you escalate physically/verbally before arriving at the room/hotel/car/bathroom/treefort, or you're likely to freak her out.
The whole idea of the first kiss being the goodbye kiss on the doorstep is…pretty damn lame. You want to have her sitting on your lap within the first hour.
My friend 60 Years of Challenge wrote an entire book on the concept, "Escalation is attractive." And it's true. Guys worry far too much about what to say, and don't focus on improving their ability to make a woman horny with physical touch and simple bold, direct statements that lead to sex through logistics like, "Where do you live? I want to see it."
So the debate is, should you escalate to the point of logistical isolation (Bring her to your love lair, usually yours or hers) on the first meet? Or wait three to ten dates before pushing for a lay?
My answer is yes. I always go for sex if I am attracted enough and the woman seems emotional stable and sexually open, meaning she's cool and DTF.
The main worry guys have is that their sexual offer will insult the woman and he will be rejected. Yes…this will happen, but in most cases she won't be rejecting you…she will be rejecting your offer to escalate to sex.
She refuses sex, not you!
Just to illustrate, here is my own experience:
Number of dates I messed up by escalating to sex too quickly: two, maybe three, in my entire life.
Number of women I lost by not escalating, thus displaying my beta status and annoying a woman that was really hoping to get laid that night: Dozens
So why is this contrary to common sense?
Well…women want to get banged too. They want to bite the pillow and holler in ecstasy to the gods of pleasure. Unfortunately a number of factors keep their inner slut at bay, namely social pressure and the stigma of being branded, "easy." If a woman is on the hunt for a monogamous relationship they will hold on to their chastity as a bargaining tool. They will make the man work for that pussy. This says, "Hey, I'm not cheap. I'm a good girl. I'm relationship material."
Thankfully not all women are so deluded into thinking sex is valid currency to alpha males. Alpha males don't value sex the way beta's do. They don't need sex for happiness. Of course the whole notion of beta and alpha is subjective, but the guidelines on leadership, abundance mentality, confidence, social proof, growth, etc., apply.
Some women will have sex hoping that this will make a man value them more. I guess that's low self-esteem. Not your problem. Most male egos need to be fed. They just want to feel like they made the girl horny, not that she is a disease carrier that spreads her legs at every opportunity. Most women don't operate at that level, not like men who are fighting the urge to spread their seed to every available attractive woman that displays interest. For men it's only some ingrained sense of moral standing that keeps them locked in fidelity. That and loyalty.
The same isn't true for the lowly beta who takes what he can get. I had a roommate that spent a year with his girlfriend and never fucked her. Ouch. I'm pretty sure he paid for her dinners while another man gave her the big O.
Feminism has actually made it easier for men to get laid quickly. Go figure. Girl power!
A woman needs to know you are willing to go the distance. Not escalating does not show respect, in fact, it is disrespectful.
When you are at work, grinding away to impress your boss and you stop just shy of completion, does this impress him? No…he's pleased with your work ethic, but the boss wants results.
"She'll think I just want her for sex."
Well…is her self-esteem so low? If you are dating women with these issues, that she would be so offended by a man striving towards a worthy goal, (Am I delusional perhaps?) you are chasing perpetual misery and a stream of empty souled sperm receptacles. A confident, healthy, intelligent woman will never be offended by a man that escalates in an intelligent manner. That's what men do! We are spear wielding baby makers.
"She will think I'm a player."
She'll think you are knowledgeable in the ways of women. She will think you have other pretty girls in your life. She will think you are good in bed. She will think you are a fine leader. She will think you assume success and have a healthy libido. She'll think you don't care about rejection and are a risk taker.
"I'll be rejected."
Sure. That's fine. Who cares? If she rejects you at your first attempt, try again. No big deal.  If she rejects you outright and you get the LJBF (Let's just be friends), then isn't it better to get rejected for being bold early in the romance. That way you won't be trapped in an endless cycle of, "dating to nowhere."
Not to sound too awesome, but I've never, "dated," a woman more than seven times without sex. My average is the second date, usually the first. Do I insult or manipulate them? No. The girls just understand that I understand. I don't get offended if they reject my advances. I stay positive and they know, that when they are ready, I'm willing and up for it. I don't lose respect for a woman if she gives me a bj on the first date, because…I'm cool like that.
I know guys that are very attractive to women that never escalate for sex on the first date. These guys are looking for, "relationship material." This strategy is absolutely fine. It's the charming gentleman approach. The problem here lies in experience. The inexperienced man looking for relationship material is too afraid to escalate out of fear of rejection, or insulting the woman and blowing it. That's why I tell these newbies to escalate. Blow it! A woman will never come out and tell you her magic number of hours needed before sex. And until sex occurs you will never truly bond with your woman. Until sex, you have no relationship. You have a friendship, and a weak one.
Not that you should sleep with all your friends.
If you treat a woman differently because she is more attractive to you, you are putting her on the fabled, "Pedestal," of the little man. The little man thinks women are great beings that he must strive to impress. They aren't. They are girls, and they want a big man.
I gave this advice to a friend of mine. He went on a date and attempted to kiss the girl–she rejected him. He came back to me angry and said my advice ruined his chances with this girl. Here's the sad truth, he never had a chance with this girl or she would have kissed him. But should she ever change her mind, she knows he's ready go there.
Put your email to the right of this post to have this blog delivered straight into your inbox. And please comment. Keep the faith alive through validation.