Since I've written a bunch of weird poetic stuff lately, here's some practical advice.
How to use a little physical dominance, based on my experience.
When I first started trying to get physical, "Kino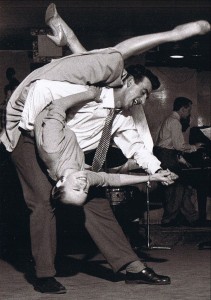 pinging," was all the rage. When she laughs you reach out your hand and touch her shoulder–"Ping!" This is a great training wheel but ultimately it just telegraphs a weird semi-intent, purposeless touch. It can come off as creepy.
One night I decided I wanted to pick girls up. I mean, literally, "Pick girls up." I opened a group and had them hooked enough to try. I said, "I'm taking you home!" and swooped a chick up into my arms like a fireman. She squealed and kicked her legs with joy. Great success! It's now a staple of my game.
There is also the bear hug-lift. I hug a girl, low on the back, even below the bum, then lean back, and lift her up above my head. It's good for you shorter guys. The leverage allows you to lift people much taller than yourself.
The shoulder carry is super extreme. You hoist the girl onto your shoulder like she's a kidnap victim. It's a bit tough to master. I don't do it often because I dropped a girl once.
You can get a girl to ride you missionary style, but it's more a submissive decision than other options, so it means she probably wants to hook up. For her to wrap her legs around your waste is a decision based on attraction. To hoist a girl over your shoulder is more about cave man type aggression and playful dominance.
You are basically taking complete control of her reality. If she doesn't try to shake herself down, it's a good sign she is compliant. Haul her off to the couch, and slam a make out.
I would make a point of trying these things, night after night, I would learn to physically dominate them in a way that my words could not. If I didn't have something to say, I would just swoop them off their feet and run off somewhere.
This helps develop a fearless attitude. Not once has a girl ever said, "No!" when doing this. Push the limits. Instead of a creepy, "Kino ping," try carrying her across the threshold like a new bride. I even tell her we are getting married.
Physical dominance:
A. Pumps her state
B. Demonstrates Alpha/fun
C. Attracts lots of attention (She squeals and laughs)
When should you attempt to swoop a girl off her feet? When she is smiling is usually the best time. Now realize just because you swooped her does not mean you are going to take her home. It's just a fun thing to do that will help you to stand out from the crowd of boring guys. It may seem intimidating to try at first, but isn't that the point? To push your comfort zone and alter the course of your perceived reality?
Or you could watch Russian porn.