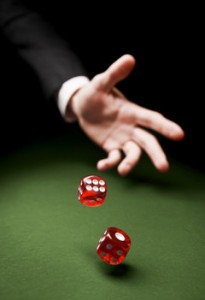 So here's the great glitch in the matrix. If you are a guy with decent style, decent health, and a decent mind…you can play the numbers game and find success.
This is the law of averages; if you approach many women, eventually one will sleep with you. If you approach even more women, you will find more to sleep with you. In theory you could keep approaching women and build yourself a harem, should you so desire such drama.
This concept is both liberating and frightening to the mainstream. For a woman, this strips her of the dating market power tools she preciously covets: Her sex and affection.
When a man misbehaves, a woman tends to respond by withdrawing sex and affection. But what power does a woman have if her man can walk to the nearest bar or mall and approach six dozen women until he gets a date?
Not that there is some secret war of the sexes going on (for some there is).
For guys looking into the pickup philosophies, it forces them to face their fears of public ridicule, and also asks them to question their identity. "Bad with women? Pssshaw. I can get a girl when I want to. I just don't feel like it. Those pua guys are creepy!"
When I discovered this glitch back in 2006, I was flabbergasted. Is that it? You simply hit on every girl until one hooks up with you? Isn't that pretty…douchey?
I weighed the alternative:
Nothing. Boredom. Loneliness. Despair.
Hrrmmm…numbers game it is!
Here is a very truthful equation. I call it the 1/10 rule. Assuming you have the fundamentals down, (read my free ebook) if you approach ten women, you will acquire at least one solid phone number.
Out of ten phone numbers, you will get at least one date.
So if you approach ten women a day for thirty days and collect thirty phone numbers, you will date at least three new women a month.
These are very, very realistic odds. They are also based off my own field experience teaching pick up for two years. Actually this is quite high, it seems to be more like 1/6.
So is that it? You want to date more, or better women? Want to lose your virginity? Want a new gf? Approach ten a day and you'll find what you're looking for. It's really that simple. If you do this and are still failing…hire a dating coach.
Now all the other crazy stuff you can learn isn't part of this process. Stuff like quick sex, nlp, sexual prizing, closing, cold reading, persistence…advanced charm. All that stuff comes with experience. I call it black hat seduction and don't teach it to many guys. Most guys only need to put in the numbers and focus on the basics.
How do I know this works? Because I did it, and all my close friends did it, and every guy I've ever taught is getting laid or has a girlfriend they met using it.
It's not manipulation…it's gambling.
My little brother thinks this stuff is really weird. I don't blame him because it is pretty weird. His complaint is that he's into monogamy, one girl, and doesn't want to be an asshole.
This is what lots of people think about pickup artistry, that it's a path leading to infinite infidelity and sex addiction.
I won't deny that this is a possible repercussion. The best players are the ones that shut off a little bit of their empathy. I call it the price of transformation.
For quite some time I had to actually stop myself from hitting on every woman I met. It's the same for many of my friends. Some of them are still highly addicted to picking up new women. It's a game with very basic rules:
Play the Game…Get the Girls.
My counter argument is this. If you can approach the women that you really find attractive, and actually get them to date you, how high will your standards be? How likely will you be to meet "the one?" You won't settle for a girl because she will have you. And you won't deal with insecurity or neediness.
Back to the numbers game. Yes….pickup is a numbers game but it is more than that. You can't really play the game with any skill until you master frame control, state control, vocal tonality, body language and a few other minor skills. Unfortunately this doesn't happen quickly. I think I had to approach about a thousand women to develop a carefree, fearless attitude towards the whole thing.
And honestly, if I didn't teach this stuff for money I probably wouldn't put much thought into it at all.
That's where I want every guy to be. I want you to put in the work. Chip away at yourself. Go out and pick up some girls, fuck them silly, date them…dump them…whatever. In reality you are going to be hurt more often than they are. It's a long way to the top if you want to be a pimp.
And what if you don't want to be a player? What if you just want a girlfriend and don't want to approach a thousand women?
Well…you may get lucky. Personally I don't believe in fate. I believe you make your luck.
Roll the Dice. That's my advice.
***Sign up for our mailing list above and receive your free Ebook, "Pickup For Newbs.***