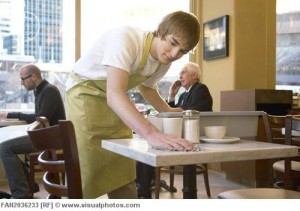 The first time I quit my restaurant job I had $500 in my bank account; just enough for a plane ticket to Montreal. I had one client/friend willing to pay me the $600 airfare and let me crash on his couch. My boss wasn't going to give me the time off. She figured I should be grateful to be bussing tables for $15 an hour, and said she'd, "think about it." The next day I didn't show up for work. Nor the next day. Hahaha! (Egoic self-praise.)
I managed to drum up three more clients from the local lair, and four more off craigslist. The month I was in Montreal I made $6000 solely from coaching. On the fifth day after four days straight of coaching, on my way to the bank with a pocket full of coaching cash, I broke down and cried, because I knew everything would be alright. I did a good job, the clients were happy, I could buy new shoes. I felt better than after kissing a ten.
But it was a false start.
I came back to Vancouver, and again fell into scarcity and fear. I couldn't find a client. So I went and got another busboy job. It was only temporary I told myself, just enough to save some money to travel. Coaching would give me some extra spending money. After four months of abuse, surrounded by people that hated their lives, I asked for a promotion to a serving position. Once again, at my third restaurant job, I was told to stay in my place. I needed to earn that position (so I could work beside alcoholic cokeheads with no ambitions or dreams—servers.) I once again quit, with $500 in my bank.
It's been a tough time since then, living client to client, surviving on less than $1000 a month at times. But I'm fine with that. I've learned to live frugally. I focused on doing the best job possible for my clients, and working on my blog.
For me money means one thing…time. With money for rent, food, and coaching expenses covered, I'm able to write. And if I write now, down the road, it will put more time in my pocket. At this moment I know I won't be bussing tables any time soon. At this moment, I'm very busy, booked solid for three months. Mostly thanks to the mentorship program.
If I suddenly lost everything and had to clean another table, I would be the best damn bus boy in the city. Head bus boy. No complaints, full intent. But I have a feeling I won't need to. I'm too good at this job.
The little things you do matter. Not today, but a month, six months, a year from now. Enjoy the process and do something that's bigger than yourself. Make a bold move whether it's kissing a girl, or starting a new business or moving over-seas.
Your reward is equivalent to your fear
Just so you guys know, I'm working on my book right now. I'm about 50% through the first draft, so blog posts will be less frequent for a while. In the mean time, I suggest you all read, "Women," by Charles Bukowski.
I'm also enrolled in Muay Thai kick boxing. Then next time some dickhead fucks with me on bootcamp I'll give him a flying elbow to the skull.
Kidding.