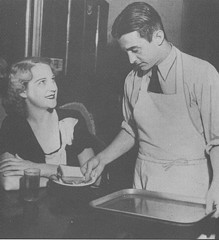 This guy at work Serge, he's a thirty year old bus boy. He's also a pick-up genius, yet totally oblivious to theory.
I've been watching him work. The other night he approaches this table (not in his section) and chats up two hotties. After a few minutes, one girl says, "Well it was really nice meeting you." He smiles, changes the subject and plows on. They giggle.
Five minutes later, there's an audience. Most of the staff are amused by his work hour pick-ups. The Bus Boy doesn't bend to social pressure. After about seven minutes, he gets the number and ejects. But then returns for ten more minutes of banter and flirting.
Later I ask him why he would do this; come back after he made a great close. He says, "Oh that?" In his thick Russian accent, "That was for my pleasure."
For his pleasure. I get it.
After he left, the girls look at each other, and one say's, "Oh my god, I was drooling." Even though she repeatedly made dismissive comments like, "Well nice to meet you!" and "Maybe I'll see you around!" Serge would just smile and change the subject.
On how he pulls this off at work, he explains, "I just give compliment, and get number—never give number. I make their day. Some other guys, they don't want rejection. To me it means nothing."
And that's it. If you are wondering what he looks like, he is about 5'6", bald, but in great shape. Having a great physique helps him, he says, "Its good, but every woman likes a different man. No worries."
Simple, efficient.
Could he increase his results by employing modern tactics? Probably. But If I showed him, I'm sure he would laugh it off. Sometimes all it takes is a compliment, and a number close. Old fashioned game.
My point is: Stop thinking so much. Get in, do your best and close. If a Russian immigrant bus boy can do it, you sure can.