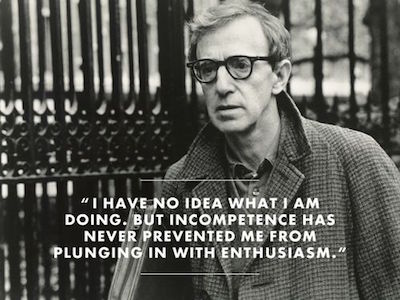 (Edit. I've since found out that Woody hung out at pedophile Epstein's island. Deeply concerned. But I'll leave the post up until we figure this all out.)
Most of my readers worship super alpha type guys like Elliot Hulse, Mike Cernovich, and various wise muscle-heads.
I like those guys too, but I find my inspiration more from the arts.
I love cinema, and one of my favourite directors is Woody Allen. Not even so much for his films and books, but his work ethic. The guy has been cranking out a movie a year for decades. He has 47 films to date.
I've been neglecting my novel for almost a year. I managed to write about 30% of the first draft, and since I've been re-writing, re-writing, re-writing. I've found so many wonderful ways to procrastinate: Making YouTube vids, blogging, chasing women. And every month that goes by, that little empty space in my souls expands.
We all have that nagging project we know will drive us nuts until it's finished. Or at least until we make solid progress.
The key to happiness is knowing that the work you do today, will lead to a better future.
This is why rest and relaxation feels so empty. Like going back to work after a two week all inclusive resort vacation and being more miserable than when you left. Sitting by a pool inhaling food and alcohol like a goat, is not travel. It won't add to your wisdom, or life experience. That's why I continue to read, write, and socialize while I travel. At least I'll have something to write about. 
On that note, here are some brilliant Woody Allen quotes:
Eighty percent of success is showing up.
When I wrote A Thousand Tiny Failures, I'd been procrastinating for almost two years. Then I decided I'd spend ten minutes a day on it. That ten minutes often turned into hours, and after three months I had my first draft. It was the same concept I employed with starting my small business, and improving my success with women and personal confidence: Ten minutes a day. 
Life doesn't imitate art, it imitates bad television.
We live in a backwards society that emasculates men, and teaches women to act masculine. Why? Because we learn not from intelligent and wise thought leaders, but the mainstream news and reality tv shows.
The talent for being happy is appreciating and liking what you have, instead of what you don't have.
We are addicted to our stuff. Instead of meditating, visiting family, or working out—we go shopping.
One of my friends asked me to invest in a house and a boat with him. When I said I didn't want to own a lot of possessions until my income was greater than my ability to spend it, he stopped speaking to me. He was also annoyed by my involvement in the culture war. But, in times of war, you're bound to lose a few friends.
I had a terrible education. I attended a school for emotionally disturbed teachers.
Our education system is putting our children's future in the hands of feminists. That's a broken system.
If you're not failing every now and again, it's a sign you're not doing anything very innovative.
So many men are terrified of approaching women. They don't want to be rejected. They want a 100% rejection proof method. This is a microcosm for the weakness of men at every level of our society. This is why capitalist democracy works. It weeds out the losers, the weak, and lets the strong thrive and innovate.
If my films make one more person miserable, I'll feel I have done my job.
He knows how to troll the haters.
I was nauseous and tingly all over. I was either in love or I had smallpox.
It's important to have a sense of humour. Woody has tremendous insight into the absurdity of romantic love.
Who do you look to for guidance? Authors? Film Makers? Athletes? Entrepreneurs? Let us know in the comments.
We've all had enough rest. Get off the Internet, delay that shopping trip, and show up to that project you are neglecting. Create a better future for yourself by doing the work—or in the words of Woody Allen:
I don't want to achieve immortality through my work. I want to achieve it through not dying.