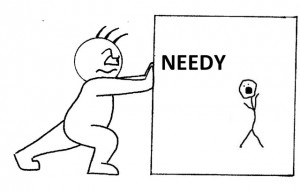 I have this one blog post called, "Why won't she text me back?" It's responsible for most of my frustrations on the blog. Every day I get about two hundred men (boys) googling things like, "Girl won't text back," and, "Met girl, had fun, now no reply to my text." If you look at the comments thread it is over 200 long with guys from all over the world pouring their big hearts out. "Tony! I need help! There's this girl I met!"
I would say about 99 percent of these guys don't even read the article. They just post a long winded question and my reply is always the same. I tell them this:
You're too needy
Wait…just wait
Go meet more women
That's it. That is the answer. But they think I'm Gandalf or something.
How do you know if you're needy?
You Google, "Why won't she text me back."
You are hung up on a female to the point you Google, "Why won't she text me back?"
You Google, "Why isn't she texting me back?"
Get it?
So here's the answer to all of your problems, again.
Read my blog and my books
Go out today or tonight, and practice approaching pretty women
Collect five phone numbers a week
This is a good start.
A man with options would not Google this shit. That is why she isn't texting you back. You have no game son. Get a life. Meet more women. Become abundant and awesome. That's it, that is the only answer. I'm sorry.