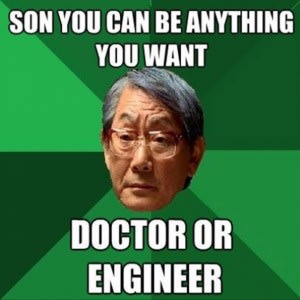 This is a guest post from my friend Lee, at actiontoknowledge.com
Preface
This post is written primarily for younger guys between the ages of 18-25 years, who are just starting out in life and want to become successful with women amongst other endeavours. Although it's for men of all ethnicity, I would like to address it specifically to my Asian brothers out there because I know how difficult it can be to break away from your family due to differences in upbringing, culture, finances and fear.
If you're already independent and living successfully on your own or with a roommate, then congratulations. Times are tough and kudos to men out there who are not only making it on their own by are thriving.
Rewind to 2010
Like most guys, when I first started my journey into Game and self-development, all I wanted to do was get more girls. I fretted over simple things I can now take for granted, such as "what do I say?" or "how do I touch her?" or "what should I text her?" Since then, I've realized that getting girls was simply the result of taking massive action, facing your fears and pushing your comfort zone in all areas of life.
At the time I was 21 years old, fresh out of university, poor and living at home. My mom was a typical Asian helicopter parent who nagged too much which became overbearing at times. While she had the best of intentions for me like most parents do, living at home had held me back from becoming the man I wanted to be.
Since then, I've gone deep down into the rabbit hole of personal development and have been rewarded tremendously.
I read a ton of books.
I travelled the world.
I found coaches and mentors such as Tony.
I got my childhood dream job making six figures a year.
I approached, dated, slept with many women and had my fair share of naughty adventures.
Looking back, one thing stood out at the beginning of my journey that I now considered a turning point:
I Moved Out
I know what you're thinking. There are all sorts of excuses and reasons not to move out:
"But I'm broke!"
"The rent's too high!"
"I save money living with my parents!"
"My parents don't approve!"
"I can still get laid living at home!"
That may all be true. While there are advantages to remaining attached to your parents, the cost to your own personal development as a man will greatly exceed what you will save financially.
A man with Game can get laid anywhere, whether it's in his parent's basement or an alleyway behind the bar. However, understand that there is much more to life than picking up women. Too many guys lose sight of the big picture in their quest for more tail. This advice is given based on my own life experiences with a blueprint for overall future success in mind.
Why You Should Move Out
You will develop self-reliance.
In the process of moving out, you will learn to look for an apartment, room or roommate. You will learn to deal with landlords and pay your rent on time. You will learn to pay your own bills, buy your own groceries, cook your own meals and do your own laundry when mommy isn't around to take care of your needs 24/7. You will show potential employers that you are independent and mature.
Make no mistake, these are skills that may be difficult to learn at first but they are necessary for your growth as man. You will learn to make crucial life decisions, accept responsibility and assume leadership over your own life. Your will learn to take care of yourself and develop a can-do attitude that is conducive to success. These are all attributes that are very attractive to women, especially those that have both high beauty and high self-esteem.
You will develop resourcefulness.
In the months leading up to my move, I was broke as a joke and had almost no money in my bank account. What I did have, however, was work ethic and an unwillingness to fail. There was no way I would move back to my parents after a few months with my tail tucked between my legs.
So I was going to find a way to make ends meet and make it work – and I did. At one point I held three jobs and worked my ass off. There was a period of 2-3 months prior to moving out where I worked six days a week, often 10-12 hour shifts to save up enough money.
I remember on New Year's Eve and New Year's Day in 2011, I ran back and forth between two jobs and worked a 30 out of 36 possible hours without going home while the rest of the world partied. I did what most people are not willing to do today, so that I can do what others cannot tomorrow.
You will have better logistics.
There will come a point in your journey where you won't worry so much about what to say or how to pick up a girl, but rather how to get her home in the fastest and most convenient way possible. While you don't have to live right in the heart of downtown, it helps to be conveniently located within a 15-minute drive of where you plan to run Game and go on dates.
Let's face it, you will be a more attractive romantic partner when you are living on your own. Consider the freedom and privacy you gain to do the following things without anybody's permission:
You can throw a party for your friends and women you met.
You can bring that sexy girl you met at the bar home for an "after party."
You can invite a cute girl home for a dinner date which hopefully ends in sexy times.
You can finally build that sex dungeon filled with chains, ropes and other sex toys you've always wanted (Hey, I don't judge.)
Ultimately, it's about becoming your own man and taking control of your life. The person that you will become in the process of moving out will build the character, personality and lifestyle that will help to attract and retain women.
If you're still living at home and want to improve you results with women – move out.
I promise you won't regret it.