If you're searching for Vancouver's most experienced dating coach, or pua, you will find a small handful of paid advertisements and websites making this claim.
One author even claims to be "Vancouver's most experienced and honest dating coach." I'm not going to link to it. 
Well, since I know this guy, and he knows me, it's pretty obvious he's a liar. I have a long history with this character, who is known to local coaches as a selfish guy who tries everything in his power to undermine whoever he sees as competition.
If you say you're the "best" dating coach, or the "most respected" dating coach, then this is fair, as it is subjective. But to claim to be the "Most experienced and honest" when it's just not true, and you have a reputation of fucking people over, is just low integrity revealed.
Not that pickup artists are known for integrity, unfortunately.
I am Vancouver's most experienced, and still functioning dating coach. Me, Tony D, of AbsoluteAbility.com
I got into the pickup artist scene in 2007, ten years ago, and started teaching bootcamps for a local dating coaching company in 2009.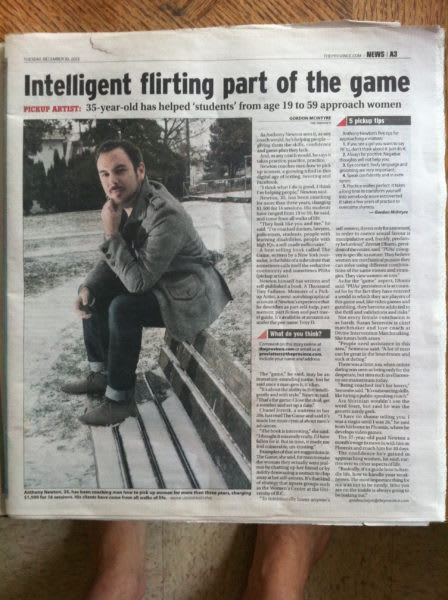 I wrote this novel which took over a year, before this guy even ran his first bootcamp.
I've since taught hundreds of bootcamps in cities and countries around the world, from Vancouver to Montreal, Los Angeles, Toronto, London, to Asia and Mexico. But I live in Vancouver. This is my base.
My first blog post on this website was September of 2010, an article about how to open women with Ipods. I'd already been teaching for one year using Craigslist ads, and advertising via live talks at pua lairs in Vancouver and Montreal. 
There is nobody that lives in Canada who is still active, that is perhaps Zan Perrion, who teaches game, seduction, dating, men's issues, that has as much experience as myself. There are a few companies that travel through here from time to time, like RSD, or various independents, but locally, until I retire or change careers, I'm the man.
As for experience…no, lay count does not count as experience.
I'm talking about coach to client, teaching experience—which is what you are paying thousands of dollars for.
The company I interned for in 2009 was called "Man Meets Woman," which is now defunct. There was one other company back then called "Lifestyle Transformations." You might have heard of a local millionaire entrepreneur Stefan Pylarinos, well that was his company back when he was a pickup coach. They are also now defunct. There were a few more not worth mentioning. 
There were a few years that I was the only coach in town, but every so often a new guy would pop up, like Rockstar Seduction, or Johnny Pua whatever, but the vast majority just scammed a few guys, were shamed in the media for their shitty coaching practices, or just disappeared.
In Vancouver as of this writing, there are three main "pua" type companies. Companies that actually take men to the street and teach them practical approach skills: Myself, Eddy Baller (good guy who has also been here longer than Jan), and Jan Huang of Janlifestyle.
Huang claims to be "Vancouver's most experienced and honest dating coach." A dubious claim considering he's only been in the scene for about three years. Hmm, no not dubious…a lie.
Even if this claim is for seo, search engine purposes, it's still a lie.
One amongst many. Low character in my opinion, considering Eddy and Myself are still active and teaching.
Petty politics aside, this post itself is for seo purposes. So how's that for honesty? I'm writing this because if you, the potential client, are looking for "Vancouver's most experienced and honest dating coach," then I'm proud to say you've found him.
In the end every body is just trying to make a living. Nice guys finish last. But if you lie in a scene as small as this and expect nobody to notice or care, you're an idiot. It doesn't say good things about your character, and in the long run will hurt your business, and reputation. But maybe that's a business lesson some need to learn.