Picasso 
All we really need to do is look to our heroes – they've told us. If you want to be a great man, study the wisdom, actions, lives and art of great men.
It took me four years to paint like Raphael, but a lifetime to paint like a child.
Pablo Picasso was born in 1881 in Spain, the son of a painter and museum curator. His mother claims Picasso's first words were, "Piz, piz," which is spanish for, "Pencil." His father believed in rigorous and disciplined practice and was a mentor to his son.
"It is your work in life that is the ultimate seduction."
Picasso took to art with an enthusiasm that left him faltering in other classes. By the time the artist was thirteen his skill was so pronounced that his father gave up painting in acknowledgment of his son's mastery. He enrolled Pablo in art school; but the young master disliked formal education and dropped out, opting to move to Paris so he could roll with the bohemian artist movement of the 1900's.
Only put off until tomorrow what you are willing to die having left undone.
He crushed his father by thirteen! Most of us spend our whole lives trying and failing to crush our father in some manner. I don't believe in, "Natural Talent." I do believe some people are naturally more creative, intelligent and ambitious than others. But if you use Picasso as an example, the guy had already put in his ten thousand hours of practice by thirteen. If it wasn't for the nurturing of his parents he wouldn't have been Picasso.
Small but Strong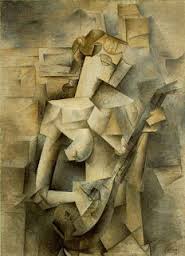 Picasso was a small man, only 5'4", 1.63 m tall. Though small in stature he was massive in charm and influence. He went on to become one of, if not the most famous artist in the world. After mastering his father's style of intense realism and detail, he created cubism; an artistic movement and philosophy in which perspective with a single viewpoint was abandoned for use of simple geometric shapes and distorted angles. It was revolutionary and continues to influence modern art and design.
The man was intensely prolific and created over 50,000 pieces of art including drawings, paintings, sculptures, ceramics, engravings, lithographs, and more, including poetry, stage and costume designs, and plays.
Inspiration exists, but it has to find us working.
Women
Picasso was a relentless seducer who was married twice and had four children between three women. His list of mistresses was epic and many, though scorned, became immortalized as muses in his work. The truth is great women are willing to share a great man – if they have little choice.
There are only two types of women – goddesses and doormats.
By all means Picasso was no perfect man, as no such thing exists. He was tortured, egocentric, domineering and vain – but he was also a highly prolific genius who thrived as an artist in a world that rewards conformity. Any ambitious man could only wish to be half as great as his big toe.