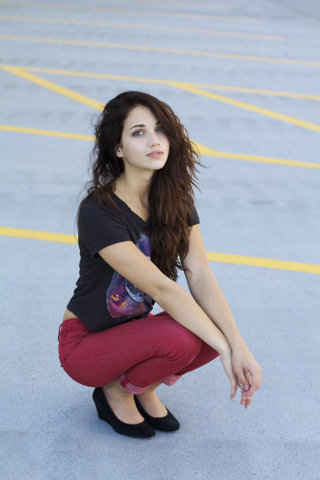 Meeting women in the daytime is the easiest way to meet high quality, attractive, intelligent women.
I spent far too many years running hopeless sets in loud bars before I mustered the courage to tackle daygame with enthusiasm.
I'd dabbled in it, to limited success, but it wasn't until I started teaching for a living that I had to man up and explore the form.
It landed me more than a few passionate, short relationships. Many of those women I'm still good friends with.
To excel at daygame, there are a few factors to consider:
1. Location: In your city there should be one area where attractive women congregate. In Vancouver it's the Granville and Robson strips. In Montreal it's the underground mall or various metro stops. Hot girls seem to like clean, safe neighborhoods with a nice mix of clothing stores, café's and bars. If you live in a small town and want to learn daygame, consider moving to a city.
Weather can play a factor. I find women are less receptive on rainy, or cold days. That's because they're wet and cold.
Universities are great locations for girls 18-23. Cities like Montreal, with a University being close to the nightlife districts, are good hunting grounds.
Café's are my favourite. A good coffee shop that attracts hot girls is worth its weight in Platinum.
Book stores and libraries can be sparse, but the setting provides a limitless number of indirect, situational openers. "Have you read this?"
Lunch special and happy hour bars. There are certain times of the day that women will stop work and have a drink. Usually around noon, then again after work, from six till eight pm.
Festivals, preferably the street variety draw crowds, and where there are crowds, there are women.
Public transit. Buses and trains are like mini pickup factories. I've never actively ridden a bus for the sole purpose of meeting women, but it just seems to happen.
Once you have your locations you can move onto self-analysis.
2. Self Analysis: Put on your best pickup clothes. You don't need to look like a rockstar, but how is your haircut? Are your clothes fitted and clean? Are you well groomed? Any nose hair, dirty fingernails, anything that might make you appear like a beggar or crackhead/rapist? Are your shoes clean and in style? In pickup, first impressions are everything. If your first impression isn't good, then you won't have a second.
How is your posture? Imagine a string rising from your feet to your head, now pull the string. Place your back against a wall, push back your shoulders, raise your chin and walk off. Imagine having a tail if you have to. Catch yourself in the mirror from time to time and adjust your posture. A confident man should stand tall, unless you're Joe Strummer or James Dean.
Eye contact is very important. Make sure to maintain solid eye contact with whatever girl you approach.
Don't fiddle with your hands, or put them in your pockets. This shows insecurity.
3. Attitude: You need to believe you can do this. If you are riddled with approach anxiety, you will need at least months of approaching to overcome this. AA is normal, and every new guy experiences it. You're not different or special. It took me about one hundred approaches to overcome mine. Now approaching is like farting, it just happens.
4. Action: Get out and try. It will be hard at first, but this step is more important than any other. If you don't try, you'll never learn. Start today. What are you waiting for? Nobody will do this for you. You're an adult now. If you really need help, join your local men's group or seduction lair and find a wingman or coach that can support you. Once you start, it's hard to stop. The momentum of taking action will propel you forward.
Daygame, A Rough Guide, Part 2.