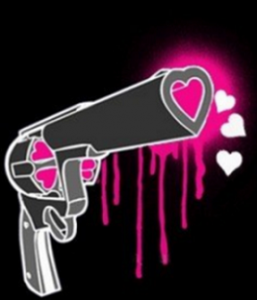 Today I want to talk about pulling the trigger.
Have you ever seen a movie where someone has a bad guy at gun point, and everybody is screaming, "Pull the trigger! Pull the trigger!" What happens? The bad guy takes the gun and shoots the hero in the face.
Often on my Pickup bootcamps I catch my clients talking to girls…talking, talking, talking, blah, blah, ladi blah. Talking on the road to nowhere. Friendsville.
I spot the girl's interest fading. I'm thinking, "Pull the trigger!" Sometimes I'll have to walk over there, grab the guys arm and throw it over her shoulder. Sometimes I have to be a prick, walk down there, pull her off him and make out with her myself. (For demonstration purposes of course. I'm a professional.)
They think that this girl is special; that they have a connection. So the guy will play safe and likely get a number that never converts into a date.
He's afraid to escalate verbally or physically because she is nice, and he thinks being too aggressive may turn her off.
The thing is, your aggression is what attracts her. Approaching her was attractive. Flirting with her was attractive. So why do most guys stop at that point and go for a phone number when they could easily be making out or sleeping with her that day/night? In fact, it's probably what she wants as well.
Fear of rejection of course. Fear of loss. And it is exactly that fear that will keep you single for another year or two. After you go for a phone number and go home to whack off, some douche bag slapped her ass and is at her place reaping the benefits of your hard work.
When you want to kiss her, go for it. If you find her sexy, tell her. What's the worst that will happen? She's going to reject your advance? Good! At least she knows you are interested. Most guys are too scared to try. They feel they will "lose" the girl. In fact, it's usually her loss. Women are incredibly frustrated by men and this weak behaviour.
I say put your balls on the chopping block. So what if she says "no thanks." Try again later after she's had time to consider your offer. Usually a woman just needs time to mull it over.
Women are not these innocent precious Madonnas we fantasize about. They get bored and lonely and even desperate. They want adventure and randomness as much as we do.
The Movie Vicki Christina Barcelona demonstrates the Madonna Whore Complex, as well as a great seducer that pulls the trigger. He tells them he would like to sleep with both of them, and cares not what they think about his statement. Brilliant.
While you are at home dreaming about her sweet, innocent feminine ways, she's snorting cocaine and having a three way.
Many guys have what we call a "Madonna Whore complex." That means women are either a Madonna or a Whore. There's no such thing. The same way you are constantly changing your personality, so is she. Our personalities are fluid. That innocent girl that never drinks or screws and is always responsible, may one day decide to try stripping for money.
That's why women go traveling alone. They go to Thailand or India so they can slut across the nation without social repercussion.
And here is this cool guy, talking, talking, talking, because he thinks she is a nice girl and doesn't want to "blow it."
Blow it.