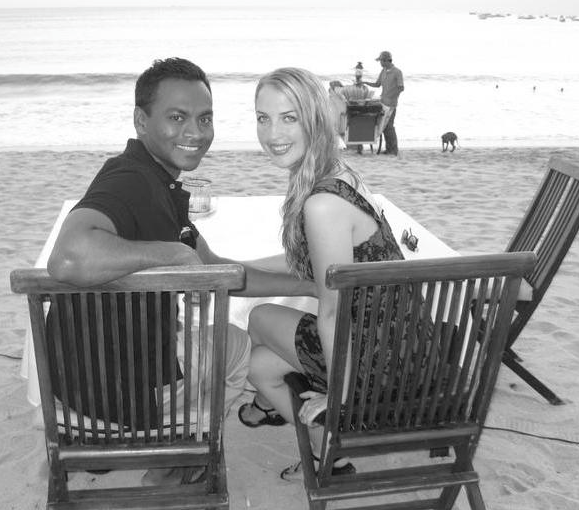 I've received a fair amount of mail from my Asian and Indian friends about picking up white chicks. They want to know if it's different or harder for them. I don't want to piss people off; I'm not here to weave Hogwartian fantasy tales. I'm here to help all men improve their success  with women—so I'm going to be honest.
I'm not Asian, but I live in a Canadian city called Vancouver BC. Vancouver has a large minority population, mostly consisting of Chinese, Korean, Filipino, Indian and Pakistani immigrants. I've had clients from most of these ethnic groups. Many of them are my friends. Also, my stepmother is Filipino and I have two half Filipino brothers.
In Vancouver, it's not uncommon to see Asian men dating white girls. It's not the norm, but you often see it. I remember once I was teaching a bootcamp, and this well dressed Chinese kid came into the bar flanked by three pretty white girls. The hottest one, a sexy blond, was clinging to the guys arm and pleading with him to take her home. "Bitch!" He said, "I need a beer." She laughed and kissed his cheek.
My good friend is a short Chinese guy in his early thirties. He often hosts singles events around the city. Every time I go out with him, he has a contigent of beautiful girls fawning over him. He's not rich, or muscled, or famous…but he's incredibly happy, charming and confident. The guy has sick game and he loves being around women.
I once had an Indian student. His approach skills sucked. He would put on this fake gangster front, being like, "Yo girl, what's up!?" while swaggering with a fake bravado. Sixteen hours later, he fixed his body language, his clothing (no more Ed Hardy and gym shoes) and improved his verbal game. A month later he was in an ltr with a beautiful white girl.
Many of my Asian students have poor grooming. Make sure you are well shaven—no long fingernails or nose hair. Also you should smell good. Many Indian guys have a bad reputation for body odour. Use deodorant.
Now, is it harder for Asians to pick up white girls?
The short answer is…yes.
Why is it harder? Because they're not white.
The thing is, most men, not just brown or Asian men, have no game. Add no game to a minority skin colour, and you have even more going against you.
Now here's the good news: if you spend a few years developing yourself, you can actually have an advantage over white guys.
Think about how much time the average whitey spends tanning their skin. We go to tanning salons, beaches and parks to lay in the sun and brown up. We love dark skin. You guys already have an exotic look. You need to be proud of your heritage, because if you aren't proud, she will feel your insecurity. Use your heritage as your advantage. And trust me, there are loads of girls that find darker skin incredibly sexy. The problem is, you see it as a problem. Remember the rule, whatever you feel, she feels.
If you need proof, watch the videos of Simple Pickup on Youtube. Kong, the Chinese guy, has loads of videos of himself number closing and kissing white girls. He constantly makes jokes about having a small dick, or pokes fun at his ethnicity. He's confident, and the girls respond to that.
Now for accents and language. If you don't have the ability to communicate in a white girls language, you won't be very good at seducing them. So, take some more esl classes, and improve this area. If you speak good English, but have a strong accent, play it up. Just because you have an accent doesn't mean you aren't smart, or charming. Again, be proud, laugh at yourself and stop taking shit so seriously.
I'm short (5'8"), with funny hair, fucked up teeth and a chubby belly. Compared to tall, good looking men, I'm a 7 out of 10 in looks. But in my head, I'm an 11. When I lost weight, gained muscle, bought cooler clothing, and improved my game, I was more than able to compete.
In Vancouver Indian guys have a horrible reputation. They like to come to Granville to holler lame shit like, "Yo girl, where you goin? What's your name?" Then after a night of brutal rejections, they pick fights with other guys over petty shit. It's very easy to separate yourself from this stereotype. Have game. Don't be a fucking douchebag. Have class, charm, and style.
Again, there are many minority players out there pulling beautiful girls. If you work on yourself long enough, you can be one of them. Quit whining about it, and instead, take the path of positivity, and put in the work to improve yourself. You can do it.