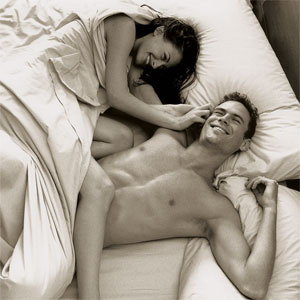 Mmmm, consensual sex! You can seduce all the women you desire, but if you can't make her come, that's that. Most women will only tolerate mediocrity in bed if you're a great provider. It's much better to be a lover, trust me. If you want loyal, happy women; learn how to screw like a champ. Because if she doesn't get it from you, there are plenty of capable lovers at the gym, bar, or workplace.
Many guys (esp 16-21) think sex is all about hammering away, hard as you can, holding out until the very last second–until she blows–just like in the pornos!  But usually it's only you, and she is left…unsatisfied.
Or you are well versed in dozens of positions—you've memorized the Kama Sutra and believe variation alone will rock her world. Unfortunately life is not like porn (which is made by men.) A dozen positions an hour will not make her squirt. A woman isn't wired like a man—and no two are equal. Every girl has her own program, her own sexual code. Her attraction triggers run deeper than ours, and on many subconscious levels.
I have a good rule of thumb: She comes first. Because after I'm done…I'm pretty much done. I'm 32, so once is enough for me. And I don't like sleeping beside a frustrated and horny woman. They send you psychic death rays in your sleep.
Break the rule, but only for variety. Being selfish once in awhile is attractive. But if you choose for a quick pump and blow, make sure it is:
a. Your choice. Because you're the man and don't give a f&*$
Or…
b. An accident…oops.
One is a decision…like, "You don't get to come today girl!" The other is like, "Baby, you are so sexy I couldn't help it." But don't make a habit out of either. The general rule should always be…she comes first.
Just like pickup, everyone develops their own style. But you still need the fundamentals.
To be a master Come Artist…employ these secret tactics!
1. Communication
Instead of blindly jabbing around–ask the girl what she likes. Some girls are shy about such matters. So you may need to coax it out of her. But just say something like, "Hey baby, let me know what you like. How is this? Is this better? Softer? Harder? Tell me, I like to hear what you like." Seriously, communication in the bedroom is so critical. I mean, if it's just some chick you drunkenly picked up at a dive bar…whatever. But if you are going to tap that woman on the regular…get used to talking about sex. It makes things so much easier. Don't worry about what she thinks. Just ask away.
2. Dominance
Fifty Shades of Grey sold millions of copies for a reason.
There are two types of dominance; physical and verbal. Mostly, in my experience, all girls respond to dominance. It may be as simple as an ass slap, or a light bite. It may be a command, "Turn that sexy ass over," or it may be light bondage. Just whatever you do…don't be overly polite in bed. Nothing turns a girl off more than a guy asking, "Please give me head?" Just say it. Just flip her over. Just pull her hair a little. It will be ok. If she doesn't like it, she will tell you. Listen to her encouraging moans.
You need leadership abilities to attract women–you need them in the bedroom as well. The sooner you realize women respond to commands, the easier your life will become. That doesn't mean being an ass, ordering women around all the time. Just take charge of things. Be decisive! Be dominant! In a loving way.
3. Mind
Women get off with their imaginations. Read, "My Secret Garden." It chronicles the sexual fantasies of hundreds of women. Lots of them involve being dominated by multiple men, and other extremely taboo, bizarre, situations. You don't need to read the whole book to get the point. Trust me.
Use your voice. Get in her head. Say things like, "Baby, your pussy feels so tight, I love the way it squeezes my hard dick." Most women go absolutely bonkers for this sort of talk, especially when you mix it with loving, sweet language, "Your skin is so soft, you're so beautiful, I am so close to coming, I love you."
So how do you know if she likes this? She will probably moan louder, or talk back, "Oh your dick feels sooo good!" You should encourage this as it leads to an orgasm state.
Many girls love role-playing. I once had a girl that pretended to be a princess, and I was her dark knight. I had kidnapped and was ravishing her under a waterfall while guards searched for us. She told me it was the best sex she ever had and encouraged these fantasies. It was great, but creatively exhausting.
Realize this. Women aren't as visual as men. They use their fantasy thoughts. Just because you are inside her, doesn't mean she's with you. That dick might belong to Barack Obama, or her college football team. It's her business. Be cool with that. Even better, encourage it.
There can be a lot going on psychologically for a woman. You're just worried about popping too soon, or keeping it up. She's going through a lot more. She's probably worried about her body. Assure her that she's gorgeous. Make her comfortable.
Stimulate her body, and her mind.
4. Variety
This is where most guys screw up. They think that sexual skill means trying out fifteen different positions. Well, you only need two or three in any session, however, over the long term, be unpredictable. Add a new maneuver every few sessions. Say something slightly different. One day be more aggressive, the next, more loving and tender, or mix the two. Go from missionary to reverse cowboy. The next time do a quicky doggy style—the next an hour marathon. Mix it all up.
The same with your verbals. Go from loving, tender talk, to aggressive dirty talk, to fantasy. Don't get stuck with the eternal phrase, "Do you like that?" Yes…she likes it. Move on.
Have sex in different locations. Try the kitchen, the laundry room, the couch, a log on the beach. You don't need to change locations every time, just try something different at every opportunity.
Mix it up. Get creative.
5. Clitoral vs Vaginal
Don't jab down to hard on the clit. Make sure you listen to her voice. If she is too quiet, encourage her to be vocal. Ask her what sort of pressure she likes. If you use your tongue, try going up, down, left right. Draw little hearts.
Make sure your fingers aren't dry. Use your saliva, lube, or her vaginal juices. You don't want to rub the poor girl raw.
Again—communicate. Encourage her to tell you what she likes. Make it fun. Even funny.
Not all girls respond to G-Spot stimulation. As a vague rule, the G-Spot is inside, up, and to the right. If you curl your fingers in a "come hither" motion with solid pressure on the upper vaginal corridor…you should get a pleasant result. If that doesn't work, try pounding it with a jackhammer motion. If that doesn't work, ask her if she ever comes from G-Spot stimulation. If she doesn't know, start searching. Some girls just won't get off this way.
While you bang her, you could also stimulate her clit with your finger—but it's tough to pull off. For very hard cases, encourage her to rub herself while you penetrate her. That combo is like a pipebomb. Some chicks are self conscious, and may need reassurance. Every girl has her own idea about what's proper, based on her social conditioning/brainwashing and self consciousness. Let her know she's hot stuff.
6. Anal
Some chicks love the bum, as penetration points straight to the G-Spot. Your best bet is to play around down there and gauge her vocals. If she gives you a "wtf?" look, then take a step back. Again, social conditioning, and personal preference, self consciousness.
If you pull this off…write a song about it.
7. The rest of her body.
A woman's body is a temple to be worshipped. Do so with style. I love pretty feet, smooth calves, curvy hips, and the lower lip. Explore her! Don't just squeeze her TnA until she's numb.
And don't just smash away inside her. All the area around her pubic bone is erogenous. Make sure you caress her inner thighs—but try not to tickle her too much. You could get hurt.
Summary
Becoming masterful in the bedroom isn't a great feat of engineering. Realize, some girls are…broken. If a girl reacts oddly, or has strange emotional outbursts or extreme sexual hesitations…she may have issues. Not your fault.
Sex is fun…even funny. I find fucking to be hilarious. All the noises and the mess. And no…you don't need a massive dick. I have an incredibly average dick (although quite stunning in beauty) and I do better than fine.
Don't just use your pecker and the hammer smash. The hammer smash is great, and girls love being pounded on. But remember; variation, dominance, control, creativity, communication. Some women will connect with you, and some won't. That's the truth. But if you follow these guidelines, as with game, you'll be a league above the competition.
The woman's most powerful sex organ is her mind.
And unless you get tested, always wear a rubber. HIV, Herpes, and on and on….It's really not worth it. Just jack off. Once you get it out of your system you won't care. Watch out for those girls that try to chuck you in them unprotected. It's in their genetic code to get at your seed. But it should be your responsibility to have protection.
I think I'll write more about sex in the future. This isn't like, my ultimate sex method or anything, just something to get you more consistent results. Sometimes I get tired of writing about pick up. If this was helpful…comment below.
And sign up for my newsletter for free stuff. It's there on the right. Right there.
Thanks!