I watched this documentary about hookup culture amongst college students during American spring break.
The film is meant to wag the finger at media and popular culture for molding these kids into degenerate sex addicts, sluts, and date rapists, and though I agree, I was more fascinated by how quickly and effortlessly these bleach haired douchebags were able to get laid.
One guy manages to capture on tape four bangs in two evenings. One happens in under two minutes, with the girl being aware there's a documentary film crew capturing the whole event. And she seemed sober.
What was this Casanova's magic pickup line? "Hey, come here. You're hot," or something like that. A technique I learned in my bar hustling days, from my little sister, of all people.
They follow another dreadlocked white dude around as he slaps and squeezes girls' asses, kisses them, while telling the camera guy how sex means nothing, and love is dead. The girls seem to enjoy the attention, and reward him with theirs. In various interviews with young women, they say the same.
Though personally I'm a bit of a romantic, and enjoy "getting to know" the women I hook up with, these guys when asked if they'll keep in touch with their hookups just laugh and say, "Why?"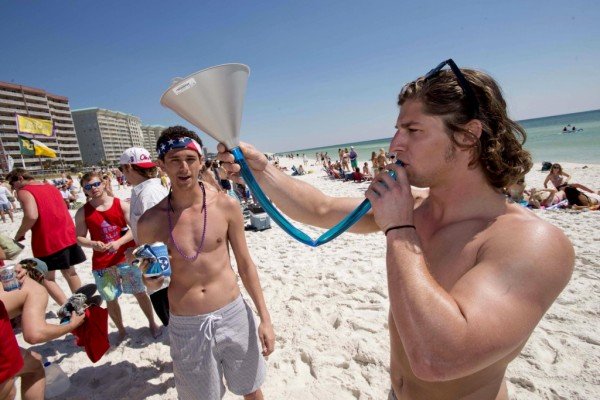 "Yell and grab" game was popularized not by pickup artists, but by popular culture: MTV, rap music videos, reality TV. 
The mind fuck for betas and normies is how these testosterone fuelled dude-bros can take ownership over these girls and their bodies, and the women seemingly approve of, and submit to the behaviour. It's not the fault of these kids, that's just the society they live in. Sex is meaningless, and easy. There are no repercussions, only reward. So why not take advantage of it?
They then follow two young girls around to various parties, watching them get drunk, and perform in a bikini contest for hundreds of men chanting "Show your tits! Show your tits!" all while the men record their jiggling asses in 1080p with their smartphones. And then the girls later admit how empowering it feels to receive so much attention. "I felt like a celebrity," one states.
In my experience this carnival of flesh style "Yell and grab" hookup culture isn't reserved for spring break beach parties, but is really the norm in any G8 college age party scene, and most nightclubs.
For everyone girl who loathes a guy yelling and grabbing, there are another four that seemed programmed to respond positively to it. And as long as this hookup culture is fetishized and celebrated in popular media, there will be men and women more than willing to partake and contribute to it.
Personally, I couldn't stand ten minutes at one of these Roman youth orgies, as I prefer having a girlfriend to one night stands with drunken sluts. But it is still a fascinating, entertaining, if sad look into the current state of sex culture in the modern world.