I fear not the man who has practiced 10,000 kicks once, but I fear the man who has practiced one kick 10,000 times. Bruce Lee.
***TLDR. This post is 2ooo words long. It's a story I wrote for an inner game book, but decided to post here instead. I have a lot of asian clients, and the difference between the guys that succeed, and the guys that quit, is highlighted in this work of satirical fiction.***
Just look at that girl, Li thought. She's just sitting there at that table, surrounded by her friends, all laughing, drinking their sugar booze. Those lips, so pink and puffy. That button nose, the way it wiggles, and how her eyes scrunch when she laughs. Her legs crossed, showing just a little bit of smooth, tanned thigh. She must have spent time at the beach. Yes, her hair is very blonde, probably dyed by the sun. You could have her…maybe. You've read enough; it's time for action. Just wait for the perfect time to approach, and then use your best line, and she will be yours. She has to be.
But you're asian Li. She's going to think you have a small dick. And her friends, they're white bitches, and they're not going to be into an asian guy with a small dick. They'll probably cockblock you. Besides, you don't really know what to say, do you? After the opener, you're useless. You'll say something stupid, and everyone will know what a creep you are. They probably all saw that documentary about pickup artists, about that guy who made jokes about choking girls, and they're going to think you're just like him.
Hey, my dick isn't small. And look at her arms, so long and slender. Oh! She just spit out some beer. She likes beer! She's definitely cool. Only cool girls like beer. What was my group opener again? I think I'll use the birthday one.
Li's heart pounded to the rhythm of the song that was playing over the loud speakers, "I don't care! About it! I don't care! About it!"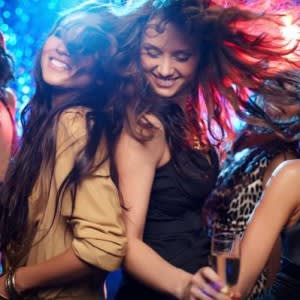 He scanned the dance floor. It was pulsating. All the young people having fun, dancing, yelling, laughing. The girls huddled in their circles, or making out, flinging their heads back and forth…in a total freedom from what others thought of them, a freedom the Li had never known.
What a bunch of fakers. Just look at these jerks. Do you really want to be like them? Why did you even come out tonight? You hate clubs. You're too old, you're twenty six. And you're short! And you're hair is receding. And worst of all, you're Chinese. Why would any of these girls want to talk to you, or dance with you? Just go home. You can try again tomorrow. There's always tomorrow.
Li got up and took three steps towards the blonde, then turned around and walked back to the bar. He ordered a shot, tilted his head and slammed it back. Then he ordered a Vodka Redbull. He took his drink and walked towards the wall where he stood clutching the it to his chest. He smiled at a few girls and they ignored him.
See! I told you. These girls are bitches. They aren't interested. If you talk to them, they'll just reject you anyway. You need some new clothes. You need to work out; grow some muscle for your puny frame. Have you even thought of what to say yet? I didn't think so.
Li looked back at the blonde. She got up and walked towards the bathroom, so he followed her and stood outside, took out his cellphone and checked his list of openers. He chose one. After a couple of minutes the girl walked out and he stepped in front of her.
"Excuse me. I just need a female opinion on something."
"Ok, sure." She replied.
"Do you think people can find true love in a nightclub?"
"True love? Well, I don't know. Are you looking for true love?"
"It's just that, well, I think that, ummm."
"Yes?"
See man, you're fumbling. You look stupid. She's looking at your hairline, you stupid little man.
"Well, I think you can, but it's not easy." He said.
"Yeah, you're right. It's not easy at all."
"What's your name?"
"Nikki. What's yours?"
"I'm Li."
"Nice to meet you."
Then there was a chime and Nikki pulled out her smartphone. She stared into it and tapped in a reply. "I have to go, my friends are looking for me."
"Oh, hey wait," Li said, wanting to get her contact. "Do you have a phone number? Maybe we can hang out sometime."
"Well, actually I have a boyfriend."
"Oh…"
See dude. She doesn't have a boyfriend. She's just a fucking bitch, like all the rest. She doesn't want to date a short little asian guy like you. He's probably six feet tall, with thick blonde hair, with a great job in finance, drives a motorcycle, and has a huge dick.
Li looked down at his dick. Actually it was pretty big.
He stared at her, and tried to mumble something.But she interrupted him.
"So, nice to meet you, bye!" She said, and touched his shoulder as she slipped back into the crowd.
Li walked back to the bar and ordered another shot, and another beer.
Fucking white privilege mate. That's what it is. Remember in high school? You were the only asian, except for that guy in math class, and he never got the girls either. Chicks just don't dig asians. How much proof do you need?
Li, now a little drunk, walked back to his wall and stood there clutching his drink.
You know buddy, you could just go home and play some Xbox. Your clan needs you more than these girls. They have these virtual girlfriends in Japan now, for the Nintendo handheld systems. They won't ever reject you, and you can always go to a massage parlour like uncle Jin.
Li approached a group of girls dancing and did his best shuffle, which he saw on YouTube, and had been practicing for a week. The girls looked out at him from their circle and one of them giggled. He tapped her on the shoulder, and as she turned towards him, one of her friends reached out and grabbed her arm, pulling the girl back into the huddle. Then the circle tightened, blocking him out.
Bloody bitches! They're all whores and sluts! And they're racist. They wouldn't do that if that girls boyfriend, the tall, handsome, good looking guy approached them. They would open up. There's a ramen shop down the street, maybe there will be some asian girls having bubble tea there. Too bad asian girls don't date asian guys here. They only like white guys. You might as well give up, this is getting embarrassing.
Li was getting rather drunk now. He scanned the bar for asian girls, but there was only one group of ten of them, and they didn't socialize. Besides, all he ever dated was asian girls, and they never gave him the time of day. Even they were racist. Those guys they dated were probably rich or something. And what if he did pull? Where would they go? To his house? With his mother and father, his brother and sister and grandma?
He circled the bar and went to the smoking area. He didn't smoke but he heard it was a good place to pickup girls. He saw two pretty ones sharing a cigarette, and used the opener he read on the seduction forums:
"Hi, I have a question for you girls."
They looked at him and sighed. "Yes?"
"Would you rather fight one hundred midgets, or one T-Rex?"
The girl took a long drag from her smoke and looked into the other girl's eyes. They both laughed. "Well," the brunette said, "I think that's a really dumb question."
See! Racists. These girls only want tall, good looking, muscular, rich white guys. Just go home. Give up.
Li hung his head and shame and walked back into the club. Wasn't there a girl in here that was for him? He saw a chubby one sitting by herself, texting. He approached her.
"You look bored," he said.
She looked up at him, then back into her cellphone.
"No, I'm not bored."
"So why don't you put away your phone and hang out with me then?"
He took a glance at her phone. It was an online dating app. She had about three dozen messages.
She giggled as she typed in a reply. "Sorry, I'm just doing something right now."
You can't even attract a fat girl. You know, I think the guys are having a poker game tonight and Tran's place. You could still get in on that. Oh right, you don't have a job. What do you need a job for, you live at home, with your parents. And all the girls know this, because you're asian.
"Stupid phones." He said.
The girl stood up and glared at him.
"Get a life loser!" And she stormed away towards the bathroom.
Li spat on the ground and walked out towards the front door. As he passed the bouncer he looked at him and said "This place sucks. It's full of racist bitches."
"Ok buddy. Have a good night."
As Li walked out he passed Hui, another asian guy. "Nothing but racist bitches in here," he said to Hui, then continued away into the night. Hui shook his head.
That poor bastard. I wonder why he's so upset. You love this club. It's awesome.
Hui walked into the club and went straight to the dance floor. He approached a group of girls that were huddled in a small circle. He reached in, grabbed a girl by the wrist and gently tugged her, she looked confused, but saw his epic confidence and fell willingly towards him. He spun her right and then left, and then leaned away while reaching out to give all of her friends a high five, one at a time.
"I love this place!" He said. "This is my house! So I'm taking her!" One of the girls reached out for her friend, but she brushed her hand away and mouthed…
"I like him"
As Hui danced he said very little. His last six months of dance lessons paid off, and he didn't really want this girl anyway. He was just having fun. He noticed a chubby girl that was on the dance floor texting, but now she put away her phone and started dancing near him, and "accidentally" bumped into his butt. He grabbed her, dipped her, and kissed her on the lips. All the girls from the big group laughed.
Hui let the girls go and walked towards the bar. He ordered a water. He noticed a pretty girl sitting with a group, and she was lovely. Blonde hair, long legs, thick lips.
What a beauty! She looks like your ex girlfriend. Maybe this one won't be so needy and jealous. You can do this piece of cake man. You're english is awesome now since you arrived from Vietnam two years ago. You took those english lessons, and that bootcamp, and you practiced your game every single day and night, and you stayed positive, and now you're awesome. I love you!
The girl went to the bathroom, and when she returned, Hui approached her. He tapped her on the shoulder and whispered in her ear…"I am shy. Hold me."
She smiled and whispered back, "You don't seem shy. Where are you from? What's your name?"
"None of your business."
"Haha."
"Okay. Hui."
"Hui, I have to meet my friends…"
He cut her off by placing his finger over her lips. "Shhh, introduce me to your friends."
She giggled. "Ok Hui."
The girl lead Hui back to her group. Introductions were made, and he charmed them with his witty banter. He'd spent the last two years working on his game, so that he could date hotter women. He'd attended conferences, bootcamps, meditation retreats, improv lessons, and joined an mma gym.
And now, it was all paying off.
You're so great at this. You're so great at everything you do. You should start a business, or two. You should run for office. You should start a band, or build a house. I love you Hui. I want your cock Hui. I'll suck it dry!
After a short makeout session, Hui got the blondes number. She wasn't going to leave her friends, but she wanted to hang out next week. It was only midnight, and he wasn't close to being done. There were more parties to check out.
When Li got home, he opened his Facebook and wrote a three thousand word rant on how racist women in his city are. He got twelve, "likes," two, "shares," and went to bed.